Emergency Dental Care in Mildura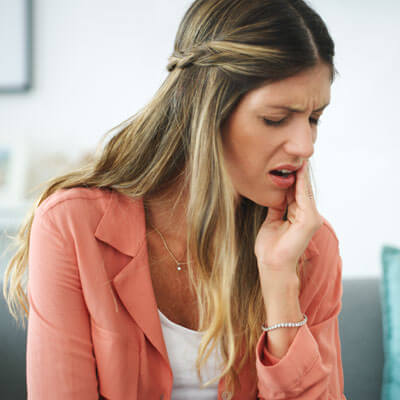 We understand-life happens, and not always when you expect it. Sometimes, the need to schedule an emergency dental visit at a moment's notice is a must. When that happens, we're here for you.
Each day, our team blocks off a portion of the schedule for dental emergencies so that when you're in need, we can be of service quickly.
Types of Dental Emergencies
We welcome patients of all walks of life to choose us in the event of a dental emergency. Some common types of emergency visits include:
Chipped and knocked out teeth
Abscessed teeth
Bleeding or injured gums
Broken fillings or other dental work
Toothaches
Broken dentures
Oral trauma
For dental emergency appointments, we can make ourselves available after hours and on select weekends.
Frequently Asked Questions
What should I do in the event of a dental emergency?
When a dental emergency happens, it should be addressed as quickly as possible. For example, if we can see you within one hour of knocking out a tooth, we have the best chance to restore its integrity.
For a chipped or knocked out tooth, we recommend storing it in a sealed container with contact solution or milk. If it is an adult patient, they can safely hold the tooth in their mouth. If the tooth falls onto the floor, please do not scrub or clean the tooth as it can break away small, integral parts of the structure and make it harder to place back in the socket.
How long should a toothache last?
While some toothaches are normal, and may happen due to sensitivity when eating something hot or cold, if a toothache lasts for longer than 24 hours we recommend booking a visit with hour practice. You should take an over-the-counter pain reliever to ease the pain, and can apply a warm compress to the outside of your cheek.
A dental abscess, also known as an infection, often occurs as a result of an untreated cavity. Sometimes, this can lead to the need for a root canal if the infection has damaged the pulp of the tooth. We'll likely provide you with antibiotics and drain the abscess if need be, as well as take a look to make sure it hasn't damaged your teeth internally. You may need to return for a follow up visit to make sure the infection has cleared up.
If I am bleeding from the mouth, should I go to the emergency room?
If you have a bad cut in your mouth that won't stop bleeding, you should visit your local emergency room before visiting our practice so they can provide medical attention and clear you of any serious issues. Dependent on the diagnosis, they may provide care there or recommend you visit our practice.
My gums are bleeding but only after I brush them. Is this an emergency?
While bleeding gums after brushing aren't a dental emergency, it does mean that you should visit our practice soon for an appointment. Bleeding gums can be a sign of gingivitis or early stage gum disease. It's important to make an appointment with us at the first sign of this so it can be stopped in its tracks before irreparable damage is done.
My crown came off. What should I do?
If your crown has fallen off, refrain from eating on that side of your mouth as it can cause the tooth underneath to come apart even further. When you get to our practice, we'll evaluate whether we can re-insert the current crown or if a new crown is needed.
In Need of Emergency Care? Call Us
We're here for you when you need it most. If you're currently experiencing a dental emergency, please give our practice a call to book an appointment. We'll do everything we can to make sure you get proper attention as quickly as possible.
Don't wait-give us a call today.

Emergency Dentist Mildura | (03) 5022 2933