Dental Implant Surgery at Tankard Dental
If you're missing one, several or all of your teeth, the most advanced solution on the market can restore your smile and give you a look you're proud to show off. At Tankard Dental , we provide dental implants and implant surgery to boost your self-confidence and give your teeth their full function.
What is a dental implant?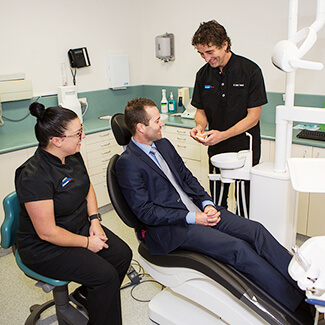 Simply put, it's a screw that has a crown placed on top of it. There are no future worries about getting a cavity or requiring a root canal.
What are the advantages?
People are increasingly realizing the benefits of dental implants:
Convenience
Natural appearance
Lessens the likelihood of additional tooth loss
Is it the best solution for me?
Dental implants are often used as an alternative to bridges and dentures. Our team of experienced professionals will evaluate you to ensure that it's the proper choice to restore your smile.
What can I expect?
There are a few appointments involved in the process. After you've been examined and have decided to move forward, we'll take impressions and use these moulds to create a custom implant. The next step will be placing the titanium implant into the jaw bone and allowing the area to heal. Finally, a crown is placed on top of the implant.
Have more questions?
Contact us today and let us discuss any concerns you might have. We're happy to accept all health funds and have payment plans available.
CONTACT US »

Tankard Dental | Dental Implant Surgery Mildura | (03) 5022 2933