Dental Crowns & Bridges at Tankard Dental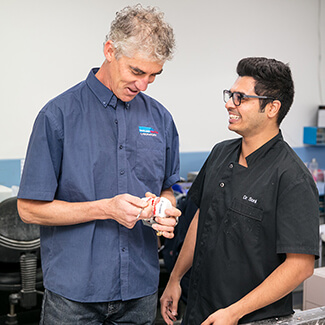 If you dislike seeing gaps in your smile or feel worried about damage to one of your pearly whites, the Tankard Dental team can help. Crowns and bridges in Mildura are restorative options that are ideal for creating a gorgeous smile with healthy-looking, natural teeth.
Strengthening Teeth With a Crown
Crowns, also called caps, are custom-made to cover a tooth. They work well if you've had a root canal or have a tooth that's been weakened or decayed and aren't eligible for a filling. Porcelain is the material used most often, blending perfectly with your smile. The process for a crown is completed over two appointments.
At the first visit, we'll prepare your tooth to receive the crown, then take a mould of it to ensure that perfect fit. A temporary crown will be given until your follow-up. When you return, we'll cement the crown and ensure that it feels comfortable for you.
With proper oral habits and routine dental checks, your crown should last a lifetime.
Bridging a Gap
An easy fix for a missing tooth, dental bridges have two crowns on each side of a gap that are connected to an artificial tooth which acts as a bridge.
First, we'll meet with you to ensure that you're a good candidate for this restoration. We may prepare the existing teeth that will serve as the anchors to your bridge. Then, we'll take an impression so that the bridge fits seamlessly into place. You'll receive a temporary bridge until you return, which is when you'll have your permanent bridge placed.
Ready to Learn More
With good oral hygiene practices and regular dental cleanings, your new crown or bridge will last for years, giving your confidence a boost in the long term.
CONTACT US »
Contact our team today to learn more or to book your time! We are in-network with many health funds and offer convenient payment plan options.

Tankard Dental | Dental Crowns & Bridges Mildura | (03) 5022 2933